We analyze your income and expenses and automatically set aside savings for you every week or every pay period.
You can set a savings goal that you would like to reach per week or per pay period. We will then evaluate your balance to find the right time to set aside the savings and make the transfer for you.
If you choose the weekly option, we will make up to four transfers to your Empower account* a week, depending on your account activities and balance, to fit your needs. That means that if there are insufficient funds in your external account, we will not take money from it for the AutoSave. These transfers will occur at most once a day from Monday-Thursday.
If you choose the paycheck option, we will make the transfer on your predicted pay date.
We know life happens, so you can make changes to your savings plan anytime. But, keep in mind that we can't make changes to any pending transactions.
After your AutoSave is set up, you can monitor your savings progress on your Empower app.
Your Empower account is FDIC insured*, and you can transfer your money any time.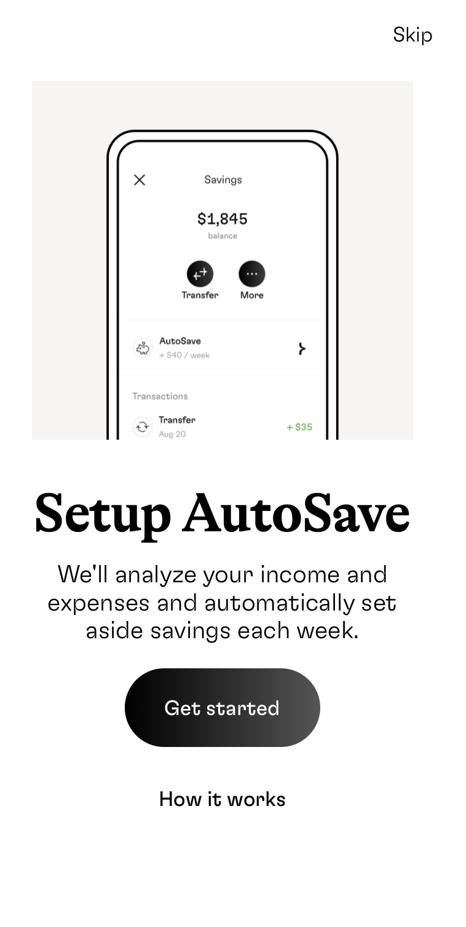 * Empower is a financial technology company, not a bank. Banking services are provided by
nbkc bank. Any balances you hold with nbkc bank, including but not limited to those balances
held in Empower accounts are added together and are insured up to $250,000 per depositor
through nbkc bank, Member FDIC. nbkc bank utilizes a deposit network service, which means
that at any given time, all, none, or a portion of the funds in your Empower accounts may be
placed into and held beneficially in your name at other depository institutions which are insured
by the Federal Deposit Insurance Corporation (FDIC). For a complete list of other depository
institutions where funds may be placed, please visit https://www.cambr.com/bank-list. Balances
moved to network banks are eligible for FDIC insurance once the funds arrive at a network bank.
To learn more about pass-through deposit insurance applicable to your account, please see the
Account Documentation. Additional information on FDIC insurance can be found
at https://www.fdic.gov/resources/deposit-insurance/.