To ensure you can still enjoy the product without interruptions, please update the account linked to your subscription, AutoSave, Cash Advance, or Thrive account before you try to delete it. Please also keep in mind that if you have an outstanding Cash Advance, we will need to wait until your repayment is processed before you can change the account.
To link to your external account, complete the following:
Go to the Analysis page of your app and scroll down to the Accounts section
Click on the "plus" ("+") icon on the upper right.
If you can't find your banking institution in the list, tap the magnifying glass 🔍 on the upper right and you'll be able to search for it.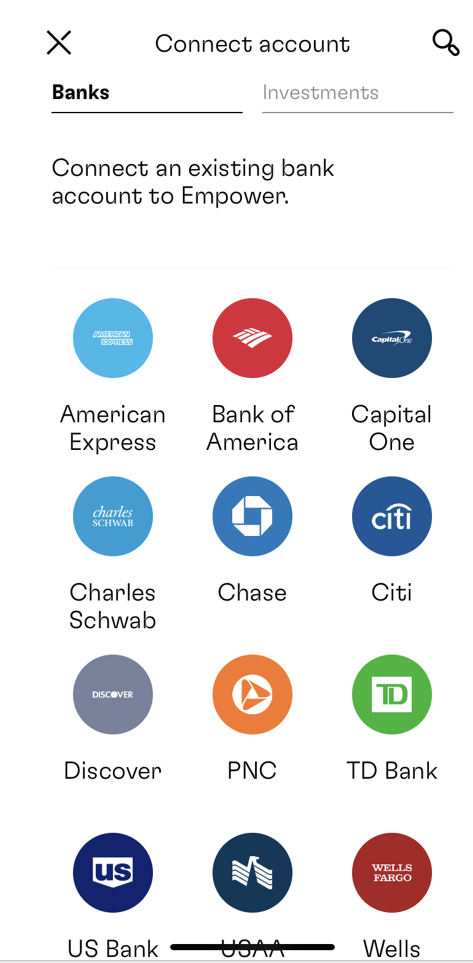 We use Plaid, a third-party data provider, to link external accounts to Empower. If you aren't able to find your bank in the search function, that means that the account is not currently available to be linked. However, this list keeps changing, so you can try again at a later time.
Please also consider the following two tips when linking an external account.
Ensure that your login credentials (username and password) are correct.
Ensure that the permissions in your external account allow you to connect to external institutions. You may need to contact your bank to change your security settings.
To remove a connected bank account, complete the following:
Go to the "Profile" tab in your app and tap on "Account".
Tap on "Connected accounts" and then tap on the account you'd like to remove. You will not be able to delete the account that is linked to your Autosave and Subscription.
Tap on "Delete account" and "Delete" on the confirmation pop-up.